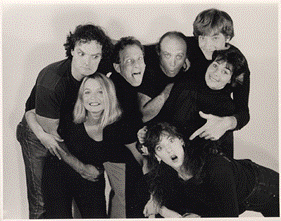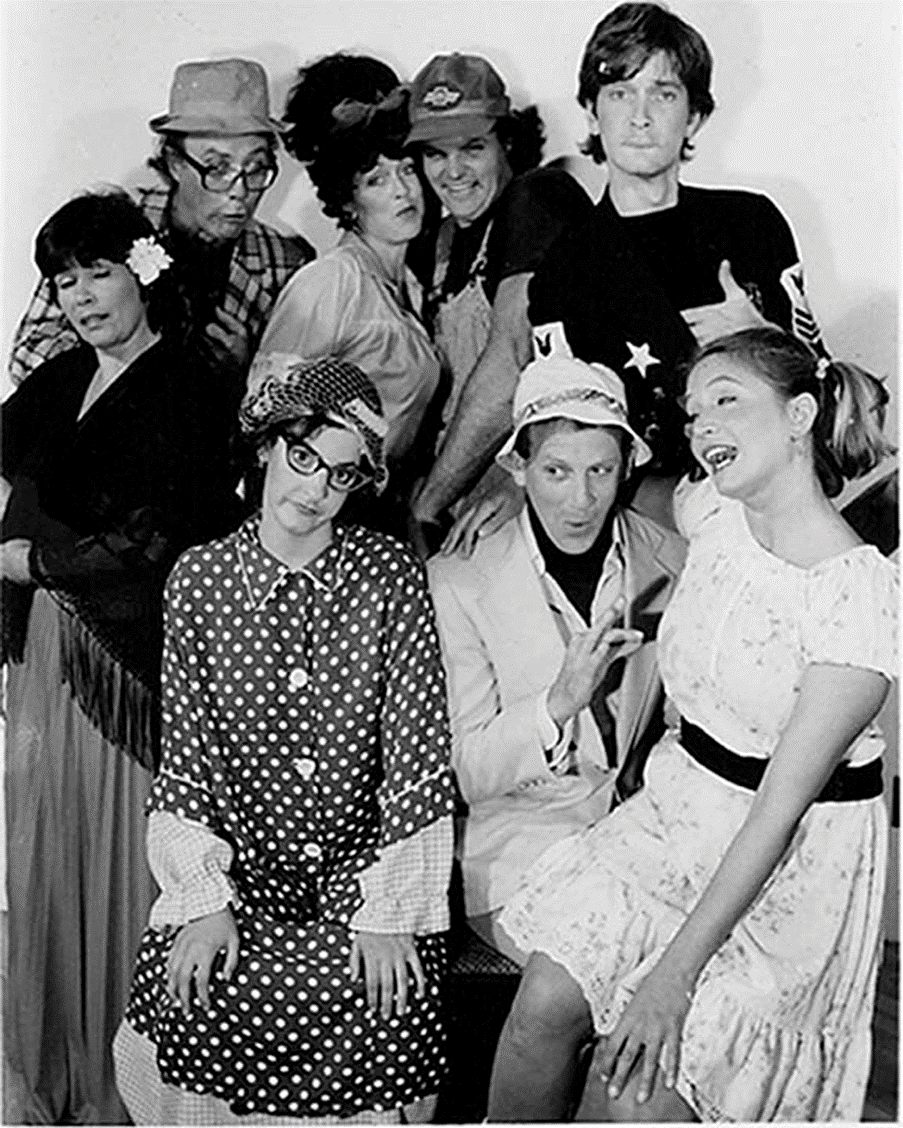 Hit and Run Theater
Hit and Run Theater is an improvisational and comedy theater group headquartered in Mendocino, California. Doug Nunn has been producer/director of the group since the mid-1990s. The group has produced over 20 original comedy revues and hundreds of improvisational comedy shows since 1979. From 1992 to 2006 Hit and Run Theater produced and starred in the Mendocino Comedy Festival in Mendocino, CA. From 2008 to 2016 Hit and Run Theater performed shows regularly with Mendocino Stories & Music. Since then the group has been producing it's own improvised shows again, many at The Matheson Performing Arts Center at Mendocino High School. Since the outbreak of the Covid Virus in early 2020, Hit & Run Theater has been producing live virtual Improv shows on Zoom. Please keep an eye on this site for upcoming shows.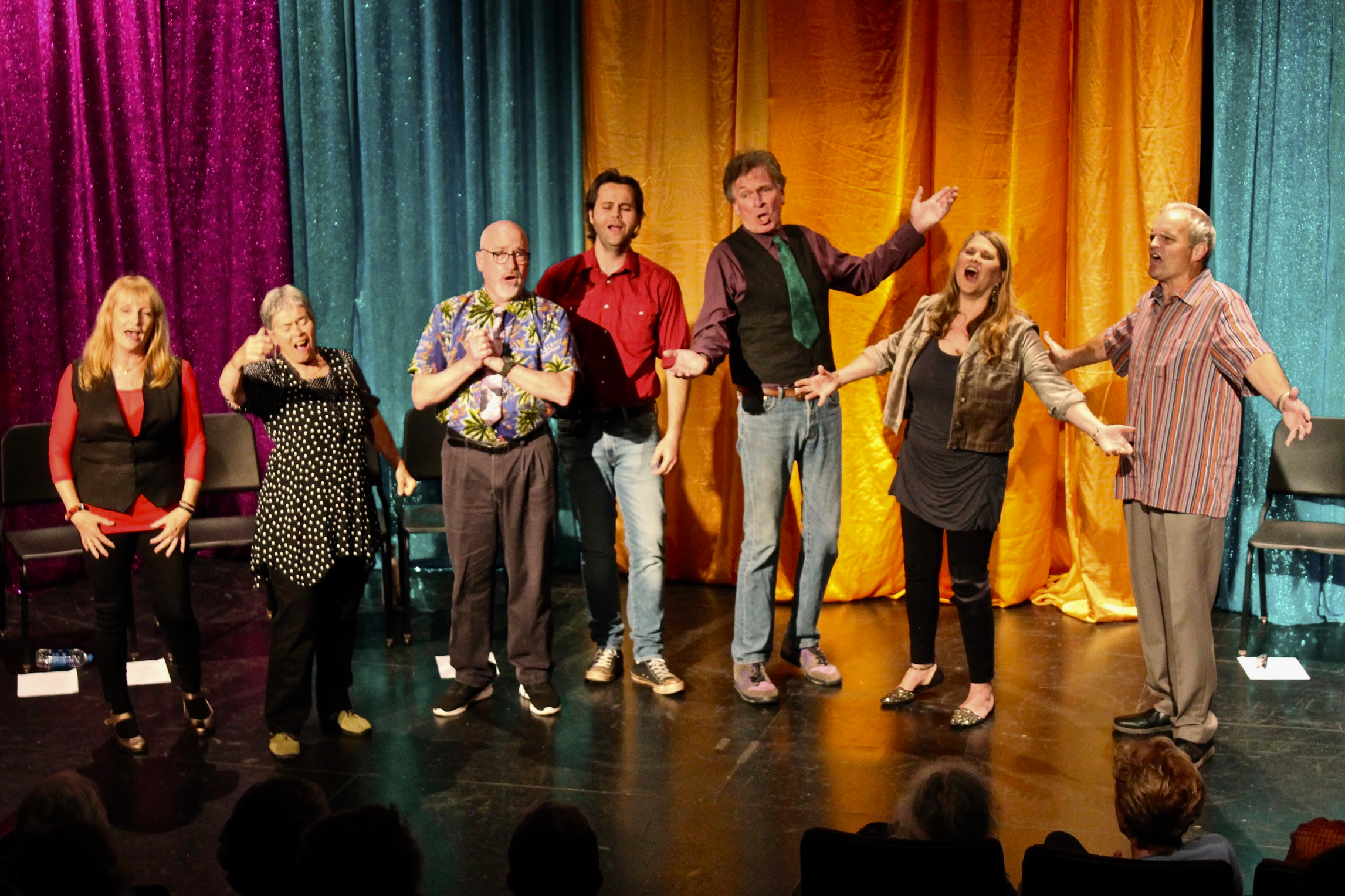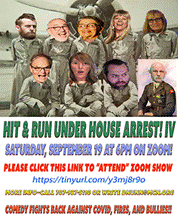 Hit & Run Theater--A Short History
Its origins do indeed remain shrouded in mist, but we can safely say that Hit and Run Theater was actually named in the lead up to the Christmas comedy revue, "Tis the Season" in December 1979. Hit and Run veterans acknowledge that Jim Noyes, former group member and local musician made up the name. Jim even added a sound effect, the sound of a car crash and a hectic driveaway that seemed to perfectly fit the attitude of a smart-alecky bunch of wannabee sketch comics.
A group of performers, notably Ellen Callas, Antonia Lamb, Kathy O'Grady, Bobby Markels, James Maxwell and others had been meeting on and off since "200 Years of Madness", a bicentennial celebration show in 1976. In July, 1979 they were joined by Doug Chateau, Pamela Stoneham, Richard Albright, and Laura Jean Cardinal for "Happy Birthday Mendocino", an irreverent look at coastal history.
In the fall of 1979, Jim Noyes, Kay Rudin, and Doug Nunn joined the group for that Christmas revue, which led to the group name and identity. From that point on, rehearsals and shows came more frequently. In 1980 there were shows at the Caspar Inn, followed by "Improvaganza", "Laugh Em Down", "Winestock", and "The Fighting MOMS" in 1981. 1982 was a very productive year, which included the "Oh Velveeta", "National Velveeta" reviews, and "The Arnold Vicious Punk Opera", a full length musical. Tracy Burns and Steve Weingarten became group regulars, Matt Rowland supplied set designs, and Richard Feinbop, Margy Crowningshield, John Chamberlin, Louis Demitri, and Louie Callas coalesced as the group's "Orch".
In 1983 Hit and Run Theater worked at making it's rewrite of "The Arnold Vicious Punk Opera" roadworthy. The ensuing "Rockalypse" played in San Francisco and Berkeley for two months in late '83 before collapsing financially. It was quite a ride, but it did lead to contacts with Bay Area comics, culminating in the monthly "LaffFest '84" comedy series which ran from March through September 1984. In the fall of '84, Hit and Run Theater took a new revue "Democracy in Traction" on the road through Northern California, ending in a nice run at the Julian Theater in San Francisco.
After the mid 1980s, the group came together semi-regularly even as various members spread out to work in other locations. Tracy Burns and Doug Nunn formed a double act(Burns and Nunn) and worked extensively in Europe and the western USA into the early 90s, Ellen Callas became production manager of the SF Mime Troupe, Harry Rothman was their Tech Director for a while, Pamela Stoneham worked with a variety of improv groups in the Bay Area and the Rockies, and Richard Albright, Kathy O'Grady, and Steve Weingarten continued to be involved in various theatrical and creative projects.
From 2008-16 Hit and Run Theater performed regularly with the Mendocino Stories and Music Series at the Hill House in Mendocino. Weekend improvised shows were typically in March, June and November. In addition to old favorites Jill Jahelka, Doug Nunn, Kathy O'Grady and Steve Weingarten, Hit and Run has been boosted since 2009 by the consistently excellent play of Christine Samas, Ken Krauss and Dan Sullivan as well as musical accompanists Laura Derry and Joshua Brody (both of Bay Area Theatresports.)
Since the early 2000s, Hit and Run Theater has regrouped as an improvisational troupe with with Doug Nunn, Kathy O'Grady and Steve Weingarten joined first by Jill Lemos, Ayn Ruymen, and Ute Rowland, and then since 2009 by Lemos, Ken Krauss, Christine Samas, Dan Sullivan, Nicole Paravicini, Steve Antler, and most recently by Janet Atherton, Mindy Ballentine and Robin Warman. In these last 15 years or so, musical accompaniment has been supplied by Bay Area Theatresports musical stalwarts Joshua Raoul Brody and Laura Derry. Improvisational lighting has consistently been the province of Sallie Werson.
Our most recent venture "Hit & Run Under House Arrest" has been an attempt to deal with the Corona Crisis by trying virtual improv shows on Zoom. On Saturday, May 23 at 6pm Hit & Run Theater did its first ever Zoom broadcast starring Janet Atherton, Mindy Ballentine, Ken Krauss, Jill Lemos, Doug Nunn, Dan Sullivan and Robin Warman. Joshua Raoul Brody of Bay Area Theatresports supplied musical accompaniment from afar. Zoom shows have continued throughout 2020 and may for the for-seeable future. Please stay tuned.